Solicitors and Estate Agents
Your business will be supervised throughout by our Principal Solicitor Colin Bell. At present Colin is working mainly in Thornhill but is available in Sanquhar by special prior arrangement.
Colin graduated from Glasgow University in 1988 with a First Class Honours Degree in Tax Law and subsequently qualified as a Scottish Chartered Accountant and Solicitor.
Colin has a particular interest in professional ethics and is a Vice Chairman of the Scottish Solicitors Discipline Tribunal. In September 2015 Colin took up a part-time tutor post at the University of Glasgow School of Law.
Our Associate Solicitor Nicola Bell graduated from the University of Glasgow in 2019 with an Honours degree in Law and continued her legal studies at Glasgow gaining the Diploma in Professional Legal Practice (with Merit) in June 2020. Nicola qualified as a Solicitor in June 2022.
Outside of work, Nicola enjoys cooking, travelling, and to balance that out, going to the gym!
A small team of experienced secretarial staff, headed by Louise Fisher, provide an efficient but personal service. Your calls will be answered promptly and (wherever possible) directed immediately to our Solicitor.
We also employ two fully qualified paralegals. In Thornhill, Michelle Milne specialises in Wills, Trusts and Estates, whilst in Sanquhar Jill Hextall deals with residential conveyancing, estate agency and property matters generally. Jill and Michelle are both Law Society of Scotland registered Paralegals.
Our estate agency is supervised by Anne Hughes, Property Manageress, who provides invaluable advice on how best to market your property for sale locally and on the internet.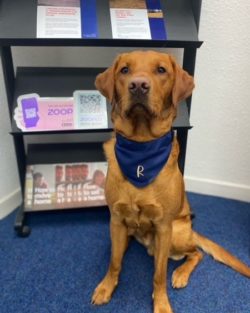 Our newest member of staff is our Meet & Greet, Ronnie the fox red Labrador! He accompanies Nicola to work most days and enjoys walks, treats and meeting all our clients!